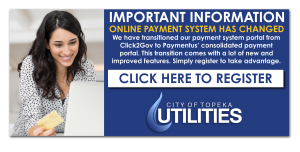 Paymentus FAQ's
What is changing?
The City of Topeka has introduced a new payment system that offers fully-integrated red-flag identity theft protection that is PCI (Payment Card Industry) compliant
Customers who previously paid Utility bills online will be directed to the new payment system
What service will be provided by the new payment service?
Secure payments using Visa, MasterCard, and Discover as well as debit card and e-check payments
Online service is available 24 hours a day, 7 days a week
NEW – Pay-by-Text Option
NEW – Schedule Payment Reminders
NEW – Store your payment methods using the secure online wallet
 Will there be any changes to my Utilities account?
There will be no changes to your account with the new online payment system
Do I need to provide my email address if I make a payment online?
Yes, your email address is required for confirmation of your payment
What information do I need to make an online payment?
Your Utilities account number (located in the upper right-hand section of your billing statement), your payment method information (credit/debit card or check information), and an email address
Will I still be able to make a payment by phone?
Yes, you may still contact our Customer Service Representatives Monday-Friday from 7:30am-5:30pm or you may use our Interactive Voice Response system which is available 24/7 by calling 785-368-3111