City of Topeka's Street Sweeping Schedule
City crews are currently sweeping in Area 11, which is from I-70 to SE 29th, between Kansas and California. After completing Area 11, crews will move to Area 12. Area 12 is from SE 29th to SE 37th, between Kansas and California.
Watch for the Street Sweeping sign posted at each end of your block the day before asking you to move your vehicle. This will allow crews to provide the best sweeping service.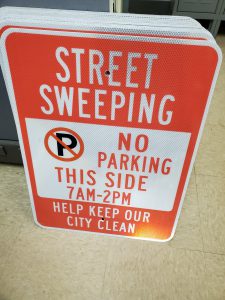 To view your Area, visit our searchable map on the city's website: https://topeka.maps.arcgis.com/apps/webappviewer/index.html?id=5dd1d2062b584961885bc51ddd781438
Street Sweeping Scheduling Detail
The City of Topeka's sweeping schedule is seasonal. Dates and times may vary depending on equipment availability, inclement weather, and unforeseen staff disruptions, such as emergency repair responses.
Why It Is Necessary to Sweep Streets
Besides the beautification benefits of street sweeping, the city's Street Sweeping Program is designed to remove sand, small gravel, natural debris, and chemicals from city streets. Street sweeping helps prevent stormwater system backups and meet federal requirements to keep contaminates out of streams and rivers.
Street Sweeping Resources
The city operates 6 three-wheel sweepers and two vacuum trucks.
The day-sweeping operation concentrates on residential streets when they are typically less congested with parked cars. Neighborhoods are usually swept from 8 a.m. to 2 p.m. The night-sweeping operation concentrates on the busier arterial and collector streets when those streets are less busy.
How You Can Help
Check this page or watch Nextdoor for updates.
Then, remove your car from the street the days street sweeping is scheduled in your area. If the schedule changes, repeat the first step – watch for Nextdoor notices and check this page.