Why are you doing this project?
The existing roadway is at the end of its life cycle. It has deteriorating pavement, inadequate drainage, and missing sidewalks. Reconstruction provides an opportunity not only to fix these things, but to transform the street to better serve the neighborhood and the community. It's also an opportunity to relocate utility poles, enhance intersections, and add landscaping and street trees. The need for this project was identified more than five years ago and it was included in the projects identified for funding with the extension of the county-wide half-cent sales tax program approved by voters in November 2014.
What is "Complete Streets"? I've never heard of it and don't think it should drive decisions on this project.
Complete Streets is a set of policies and design principles that strives to balance the needs of all users of the street. One of the guiding principles of the City's Complete Streets Policy adopted by resolution in 2009, is to "promote a safe network of access for pedestrians, bicyclists, motorists, and transit riders of all ages and abilities." The resolution also states that the City shall adequately fund the implementation of Complete Streets and incorporate pedestrian and bicycle facilities into capital improvement projects.
In 2019, the Metropolitan Topeka Planning Organization (MTPO) approved Complete Streets Design Guidelines. The MTPO's Complete Streets Advisory Committee meets monthly to discuss issues related to providing transportation to all members of the community.
I've heard that there will only be one lane on 12th Street when it is reconstructed. I'm worried this will slow down my commute and make it difficult for me to get where I need to go.
The City is currently creating a design that includes one through-lane plus one shared lane for parking, bus loading, and deliveries, trash, etc. We are developing this design with reduced travel lanes for several reasons:
Current and predicted traffic volumes are too low to justify a two-lane roadway. The existing and predicted future volumes are well below the threshold for two through travel lanes. One travel lane plus the shared parking and loading lane will provide sufficient capacity for motor vehicle traffic volumes. Loading Topeka Metro buses, deliveries and parking vehicles will all be able to use the shared use lane for these purposes. You will not be stuck behind these vehicles! (However, you will still need to stop behind school buses as required by law.) In addition, turn lanes will be provided as needed at each of the five signalized or stop-controlled intersections. Additional traffic counts and traffic modeling confirms this design is adequate.
Overbuilt streets have negative effects. Providing more travel lanes than are needed to accommodate expected traffic volumes is not good for our neighborhood, our community or our bottom line. Wider streets with low traffic volumes can induce speeding which has a negative impact on more vulnerable roadway users such as pedestrians, bicyclists, the young and the elderly. In addition, building wider streets costs us all more to maintain and does not put us on a sustainable path to fix other streets in our community.
Reducing the curb to curb width of the street will shorten crossing distances at some locations, help calm traffic and provide space for other amenities. The proposed design will feel more like a street that belongs to the neighborhood than a speedway through town. (Fun fact: did you know 12th and Huntoon were designated one-ways after the 1966 tornado to move debris out of downtown and aid in the recovery?) A single travel lane is easier for pedestrians to cross and can improve safety along the corridor.
Won't this double the time of my trip down 12th Street if there will be one less through travel lane?
No. There are many factors that affect travel time. The biggest delay when travelling the corridor occurs at the traffic signals and stop-controlled intersections. The design adds turn lanes to reduce delays at those intersections. Turn lanes will have adequate storage lengths to make sure through traffic can be separated from the major turning movement at the intersection.
The stop signs on 12th and MacVicar and 12th and Oakley will also be removed as they are no longer warranted under the MUTCD.
Has the city actually counted cars?
Yes, the city and the Kansas Department of Transportation regularly conduct traffic counts throughout the City. Traffic counts were collected on 12th Street in 2007, 2011, 2014, 2017, and now in 2019. In addition, there is an updated KDOT predictive traffic model, and additional traffic counts were captured at intersections specific to this project. The chart below shows the data from each of these traffic counts on 12th Street.
These counts show that 12th Street between Topeka and Gage carries between 3,000 and 6,000 vehicles per day, depending on location. This number has been decreasing over time and is expected to continue along that trend. For comparison, similar Topeka streets with one through lane of traffic and turn lanes where needed, include the following locations:
SW 10th – MacVicar to Washburn: 11,235 vehicles per day (two-way traffic)
SW 17th – MacVicar to Washburn: 10,995 vehicles per day (two-way traffic)
What will be the impact to on-street parking near the churches?
All on-street diagonal parking on the south side of the street will remain, and on-street parallel parking will remain. We will make sure parking needs for church services and functions are adequately addressed.
Why is an on-street bike lane considered? I never see anyone biking on 12th Street.
Topeka is a very bicycle-friendly city and 12th Street and Huntoon are important future bike corridors as indicated in the City's adopted Bikeways Master Plan. There is great interest in using this corridor for bicycling. As part of Topeka's Complete Streets policy, we wanted to explore various options for accommodating bicyclists on this corridor. To accommodate bicyclists and pedestrians, a shared used path on the north side of 12th will be constructed from S. Kansas to SW MacVicar. At MacVicar, a transition will be made from a shared use path to an on street bike lane. From SW MacVicar to SW Gage, because the right of way is narrower, an on-street bike lane and two six-foot sidewalks will be constructed.
What does one through lane mean?
A through lane is the continuous travel lane for motor vehicles. The proposed design for 12th Street will have one through lane, but it's important to note that the street will also have turn lanes as needed at the signalized and stop controlled intersections. In addition, there will be a shared use lane for parking, deliveries, buses, emergency vehicles, etc. that runs the full length of the project.
Our parking, like most on our block and in the neighborhood is in the back of our alley. Almost every resident has a detached garage with alley only access. Does the city have plans for the residents that live in between 12th and Huntoon to have greater access to their alleyways?
As part of the 12th Street project, all alley approaches will be reconstructed to City of Topeka minimum standards. Getting in and out of alleys will be made easier.
What is the design layout for sidewalks?
The width of the existing right-of-way is very much a consideration.
The sidewalk and shared use path widths are as follows:
Gage to MacVicar – 6 foot sidewalks on both sides.
MacVicar to Taylor – 6 foot sidewalk on the south side and a 10 foot shared use path on the north side.
Taylor to Topeka – 10 foot shared use path on both sides.
Topeka to Kansas – Generally 12 foot shared use path on both sides.
There is a lot of attention being given to cyclists and pedestrians. Has anyone counted bicycles and pedestrians?
Cyclists and pedestrians have been counted in Topeka annually since 2013. Counts are taken each year on the same days and in the same locations in order to evaluate localized trends. Volunteer counters use a Standardized National Bicycle and Pedestrian Documentation (NBPD) method developed by the Institute of Traffic Engineers (ITE). In 2018 the annualized total count of cyclists and pedestrians at 13th and Randolph, which is the closest counting location, was 13,206. Additional data and mapping is available at topekampo.org/.
How did you determine current traffic counts?
Significant time and effort have been expended to collect and analyze current traffic data and model a variety of future scenarios.
Current Traffic Data
In May 2019, the daily and peak hourly traffic was intentionally counted while school was in session. Historic and current daily traffic count data is shown below.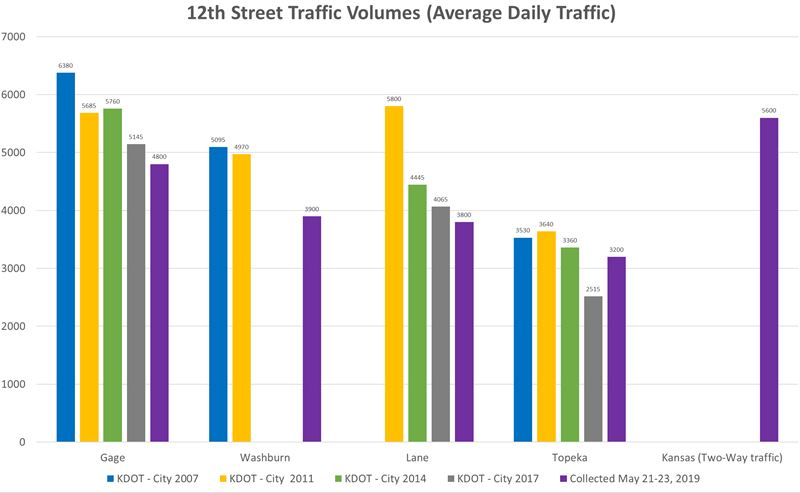 Additionally, the planning/design team met with representatives from USD 501 to hear their specific concerns and understand their, car, bus and pedestrian patterns. In addition, there is a city-wide "Safe Routes to School" plan that ahs ben used during development of the design. Following are some relevant links to the City of Topeka Plans and Studies:
Traffic Count Projections
The following two maps are based on a regional transportation models for what the traffic counts are projected to be in 2040. The focus is 12th Street and Huntoon Street from S Kansas to SW Gage.
The first map shows projected traffic counts for two through lanes, which is the same as today. The second map projects the traffic counts for one through lane, which is what the plans are right now for 12th Street. The one-lane model may show slightly lower traffic volumes on 12th Street. Some of those trips are diverted to other east/west streets.
SW 12th Street and Huntoon St. – S. Kansas to SW Gage – 1 lane scenario
SW 12th Street and Huntoon St. – S. Kansas to SW Gage – 2 lane scenario
Besides the traffic counts, the level of service is designated by colors. The colors range from highest service level to lowest service level are green, then yellow, then orange, then red. The level of service means there may be a bit longer delays. However, while red is the lowest level of service, it is still in an acceptable range in terms of a volume (number of vehicles) to capacity ratio (the number of vehicles the street can carry). In other words, the delays may be longer but still in an acceptable range.
Notice on the one through lane map the level of services moves from green to yellow in the stretch between S. Kansas to SW Washburn. Also note the level of service moves up one category from orange to yellow from MacVicar to High.
What is the capacity of a single lane roadway? How does that compare to traffic on 12th Street?
A single lane roadway has a capacity of at least 900 vehicles per hour. The chart below for the intersection of SW 12th Street and SW Lane Street shows in red that the capacity for a one-lane road is 900 cars per hour. The bars below show the number of vehicles per hour collected during a 2019 traffic count in May while school was still in session. The 5 pm hour had the highest volume of 525 vehicles in that hour, but still far below the 900 vehicles per hour capacity of a single lane roadway.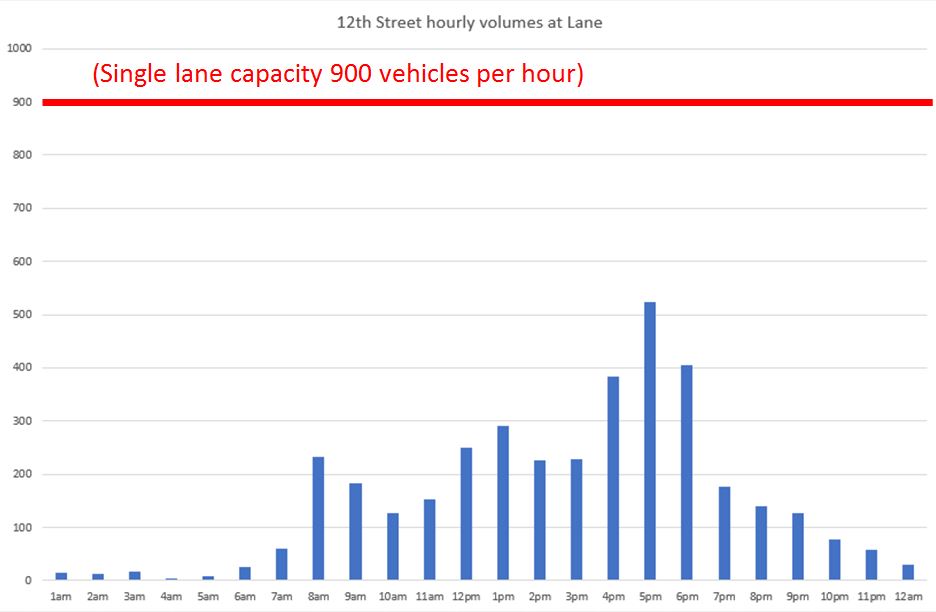 What effect will the improvements have on the bus routes?
Representatives from the Metro have been involved in this project from the beginning. There are 17 existing bus stops on 12th Street. There will no impact to the route when construction is completed. Significant improvements are planned at many of these stops including one new shelter, a handful of benches and concrete pads throughout. Our team is working with Metro to incorporate their design guidelines where possible.
In conjunction with the other planned improvements on 12th Street, public bus service:
Will be more accessible because of ADA compliant sidewalks
Will enhance connectivity to other parts of the City of Topeka
Will be more efficient and cost effective for users
The gas lines were just put in, are you going to spend more money relocating them?
Private utilities including gas, electric, cable, and others are permitted to be located in the public right-of-way with the understanding that if public improvements are needed, the utilities have to relocate at their own expense with no cost to the City. It is true that many of the gas lines along 12th Street have recently been upgraded and in some cases relocated. The design team is working with the gas company to minimize the need for further relocation work.
The coordination, planning and relocation of utilities is a significant effort that can have a tremendous impact of both the cost and scheduling of the road improvements. The city is working with each utility one-one to find solutions that work for everyone.
There are sanitary sewer, water and storm sewer improvements that will be made in conjunction with the project. Much of this work is necessary to replace the existing aged and deteriorated pipes currently in place. The planning, coordination and design of these public utilities is part of the overall utility coordination effort.
Will parking be allowed 24/7 in the parking lane (unlike today)?
Exactly what, if any, restrictions will be placed on parking will consider turning lanes, bus stops, alley access, trash trucks, and emergency vehicles. Our intent is to provide convenient on-street parking wherever and whenever possible.
Will 12th still be a snow emergency route?
Currently, 12th Street is a designated Emergency Snow Route and there are no plans to change that status.
Will the parking spots be dedicated to each home?
There will not be parking spots dedicated to each home. Because 12th is a public street, all spots will be open to the public on the usual first-come, first-serve basis.