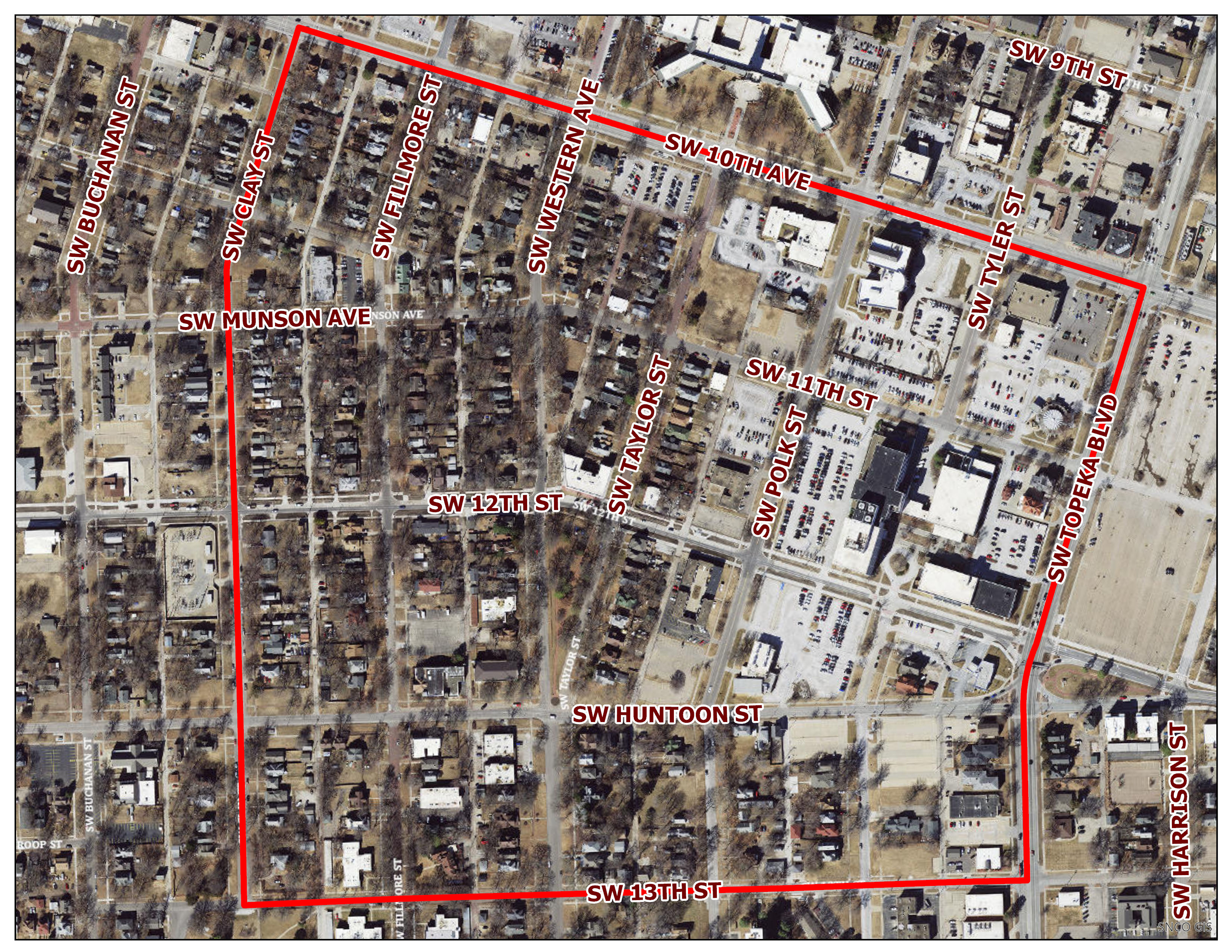 CPA23/01 by the City of Topeka amending the text and map of the City of Topeka's Comprehensive Plan updating the Historic Holliday Park Neighborhood Plan. The area affected by the amendment is bounded by SW 10th Ave to the north, SW Topeka Blvd to the east, SW 13th St to the south and SW Clay St to the west.
The Historic Holliday Park Neighborhood Improvement Association applied for and was awarded the 2023 DREAMS I by the City of Topeka. DREAMS I is a city program that provides a neighborhood plan, up to $1.5 million dollars in infrastructure money to the neighborhood, and $330,000 in housing rehabilitation dollars through Community Development Block Grant (CDBG) funds provided by Housing and Urban Development (HUD). Your involvement in this process will allow your voice to be heard when making decisions on how this money can be spent. Through DREAMS I, the Historic Holliday Park will receive an update to their neighborhood plan that will outline how that money will be spent.
Neighborhood Planning Kick-Off
At the neighborhood kick-off City Staff will present the existing conditions for the neighborhood and have a Question and Answer opportunity for members of the community.
Neighborhood Kick-Off meetings are being held Wednesday March 8th at Living Truth Christian Church at 1220 SW Fillmore St from 6:00 PM to 7:30 PM (English language meeting)
Neighborhood Storymap and Background Information
and
Thursday March 9th from 5:30 PM to 7:00 PM Topeka High School located at 800 SW 10th Avenue in the teacher's cafeteria (Spanish language meeting).
Neighborhood Storymap and Background Information (Spanish)
Neighborhood Survey (Spanish)
What is DREAMS I?
The Topeka DREAMS Neighborhood Improvement Initiatives Program (NIIP) is a neighborhood investment partnership program between the City of Topeka and area Neighborhood Improvement Associations (NIAs). The program is designed to assist NIAs with improving their neighborhoods through, community collaboration, neighborhood planning, public infrastructure improvements, and affordable housing and housing rehabilitation in low and moderate income (LMI) neighborhoods of Topeka. This partnership allows for the planning, design and completion of projects that address current conditions, and the identification of goals for future neighborhood infrastructure, housing, and other quality of life improvements. The City works to implement the priority projects, identified by the community, into the City of Topeka's Capital Improvement Plan, Capital Improvement Budget and annual Housing and Urban Development (HUD) Community Development Block (CDBG) Funding priorities for neighborhood projects through three initiative levels.